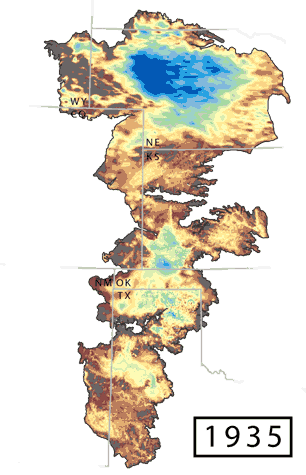 The challenges faced by Ogallala aquifer region producers are not confined by state lines.
Neither are the solutions.
Water. Whether it falls from the sky or is pumped from the Ogallala aquifer, water is of central importance to the High Plains economy and way of life. Groundwater pumped from the Ogallala aquifer (the principal formation of the High Plains aquifer system) has transformed the region from a Dustbowl to an agricultural powerhouse. More than 30% of U.S. crops and livestock are produced in this region, significantly impacting domestic and international food supplies.
Extensive pumping has led to significant depletion of the Ogallala aquifer and declining water quality in certain areas. Careful management of the Ogallala aquifer resource today and for the long-​term is critical to communities of this region.
The Ogallala Water Coordinated Agriculture Project, a multi-​disciplinary collaborative effort funded by USDA-​NIFA, is focused on developing and sharing practical, science-​supported information relevant to best management practices for optimizing water use across the Ogallala region. Our interdisciplinary team is engaged in research, outreach and cooperative partnerships with a diverse set of stakeholders, working to support current and future generations of producers in the region.
Click to Read/​Download: Final Ogallala Water Project Executive Summary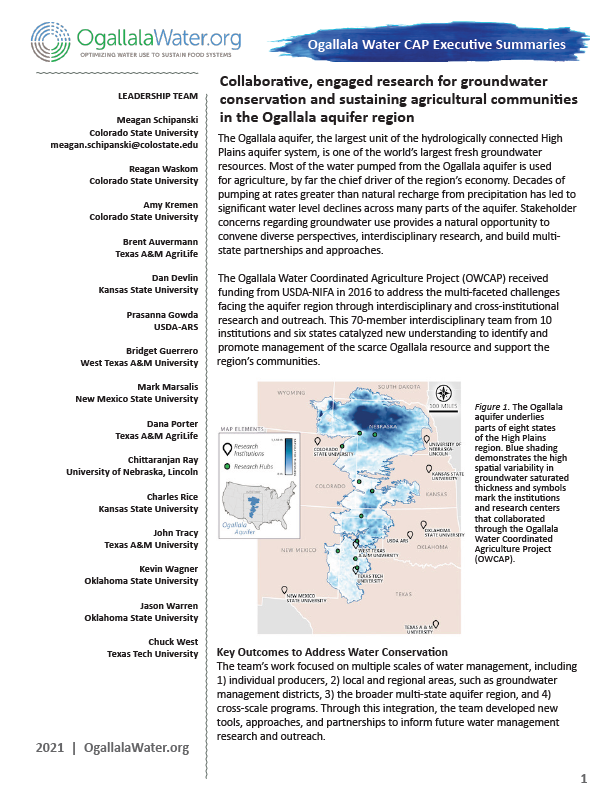 ---
Featured presentation: Social Aspects of Groundwater Management