Irrigation show and education conference
November 6, 2017

-

November 10, 2017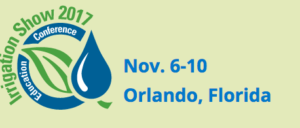 The conference has a terrific program including sessions led by some OWCAP colleagues and by colleagues with whom our project collaborates through USDA-ARS's Ogallala Aquifer Program. For example:
USDA-​ARS Ogallala Aquifer Program — Center Pivot Irrigation Technology Transfer Effort
Tuesday, Nov. 7, 9:00 a.m. – 12:20 p.m.
Ogallala Aquifer Program Center Pivot Irrigation Effort, Freddie Ray Lamm, PhD, Kansas State University
Discussion of Why Variable Rate Irrigation May Not Be Used to its Full Potential, Jake LaRue, Valmont Irrigation
Evaluation of Variable Rate Irrigation in Humid Region, Ruixiu Sui, PhD, USDA-​ARS
Site Irrigation Management Using a Sensor-​based Decision Support System, Manuel Alejandro Andrade, PhD, USDA-​ARS
Remote Sensing for Variable Rate Irrigation Management, Kenneth Stone, PhD, USDA-​ARS
CWSI Related to Plant-​available Water & Root Distribution, Steven R. Evett, PhD, USDA-​ARS
Dashboard for Irrigation Efficiency Management (DIEM), James Bordovsky, Texas A&M AgriLife Research
Water Use & Management of Center Pivot Drip Irrigation Systems, Charles Swanson, Texas A&M AgriLife Extension
Erraticity of Sprinkler-​irrigated Corn Under Drought, Freddie Ray Lamm, PhD, Kansas State University
Improving Agricultural Irrigation Scheduling & Management
Wednesday, Nov. 8, 8:00 a.m. – 11:20 a.m.
Water Conservation & Fertilizer Use BMPs vs. Conventional Growing Practices in Corn: A Two-​year Overview, Maria Isabel Zamora Re, University of Florida
STAMP Decision Tool for Agronomic Crops in Louisiana, Stacia Davis, PhD, Louisiana State University AgCenter
Quantifying Crop Water Requirements in the Mississippi Delta Using an Energy Balance Approach, Saseendran S. Anapalli, PhD, USDA-​ARS
Crop Growth Insect Model Used in Field Experiments Design, Theodore Sammis, PhD, New Mexico State University
Optimizing Irrigation Scheduling With Limited Water Using the iCrop Decision Support Tool, Isaya Kisekka, PhD, Kansas State University
Injectable Co-​polymers: A Tool for Soil Moisture Management, Glen Obear, Exacto
In-​stream Wetland: Wastewater Treatment Technology in Egypt, Abdelmoneim Mohamed, PhD, Washington State University
Strategies for Taro (Colocasia Esculenta) Irrigation, Gustavo H.S. Vieira, IFES Campus Santa Teresa, Brazil
Irrigation Technology Utilization: A Case of Central Uganda, Teddy Kizza, National Agricultural Research Organization, Mukono Zonal Agricultural Research & Development Institute
Click here for the full conference brochure.