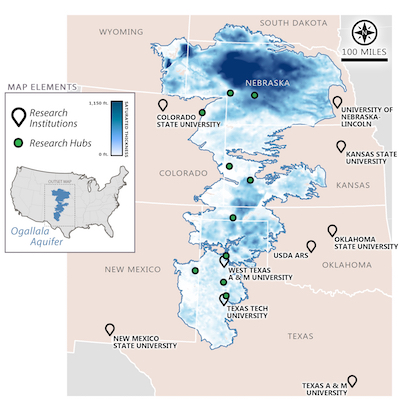 The Ogallala Water Coordinated Agriculture Project (OWCAP) is a USDA-​NIFA funded (2016-​2020), multidisciplinary research and outreach project focused on helping to address issues related to groundwater declines (quantity & quality) and long-​term agricultural sustainability in the High Plains region.
Our team of ~80 university researchers, Extension specialists, students and post-​docs is based at 9 institutions and 6 hub agricultural experiment stations in 6 Ogallala states.
OWCAP Project Objectives
Integrate hydrologic crop, soil, and climate models and databases
Develop and improve understanding of successful field-​based management across the spectrum of dryland to fully irrigated production.
Investigate socioeconomic factors affecting water use decision making and identify incentives and policies effective at increasing efficient water use while maintaining productivity and profitability.
Encourage the adoption of tools and strategies effective at improving water use efficiency, water conservation, and farm operation profitability.
This website is being updated regularly. You can also keep track of our project by signing up for our project newsletter or by following us on social media.