Welcome to the 2018 Ogallala Aquifer Summit resource page!
---
---
The 2018 Ogallala Aquifer Summit, which took place April 9-​10 in Garden City. Summit participants provided tremendous input during the Summit's interactive workshop sessions, Q&A periods, and during the evening social event that featured Kansas' Water Technology Farms.
More materials and info related to the Summit will be added to this page over time. A report that that summarizes ideas and input shared during the Summit and "next steps" needed to continue the momentum generated at the Summit for cross-​state relationship building and collaboration is currently in development.
In addition to the Summit-​related media posted below, we welcome you to view the nine white papers (one from each Ogallala state, plus a paper on crop insurance) put together as informative background material for the Summit.
Thanks to our facilitators & notetakers!
Our table rounds of 8 got pushed to having 10 people at some tables; each table had a notetaker and a facilitator to guide discussions during the workshop portion of the meeting.
Many thanks go to facilitator Ryan Golten from Consensus Building Institute for her excellent support and work in advance of and during this meeting as well as John Heaston of Aquamart, for his wonderful preparation and facilitation of the final capstone workshop session. Thanks also to the many fantastic notetakers and facilitators for their terrific work, including: Trudy Rice, Sheryl Carson, Nadine Sigle, Wayne Moore, Faith Orth, Nancy Daniels, Jared Petersilie, A.J. Foster, Sarah Zukoff, Robin Eubank-​Callis, Brenda Texarus, Julie Riniker, Pat Melgares, Barb Goode, Lacey Noterman, Andrea Renee Burns, Chuck West, Daran Rudnick, Chris Goemans, Bridget Guerrero, Lacey Moore, Morgan Marley, Joel Schneekloth, Dana Ladner, Erin Haacker, Vaishali Sharda, Jonathan Aguilar, Mark Marsalis, Kevin Wagner, John Tracy, Deb Daniel, Earl Lewis, Katie Ingels, Richard Rockel, and Deb Daniel.
Many thanks to Richard Rockel (Kansas Water Office) for filming and posting these videos from the Summit!
Summit Introductory Keynote: Robert Mace (TX)
From the Great American Desert to the Great American Breadbasket: Managing Groundwater in the High Plains Aquifer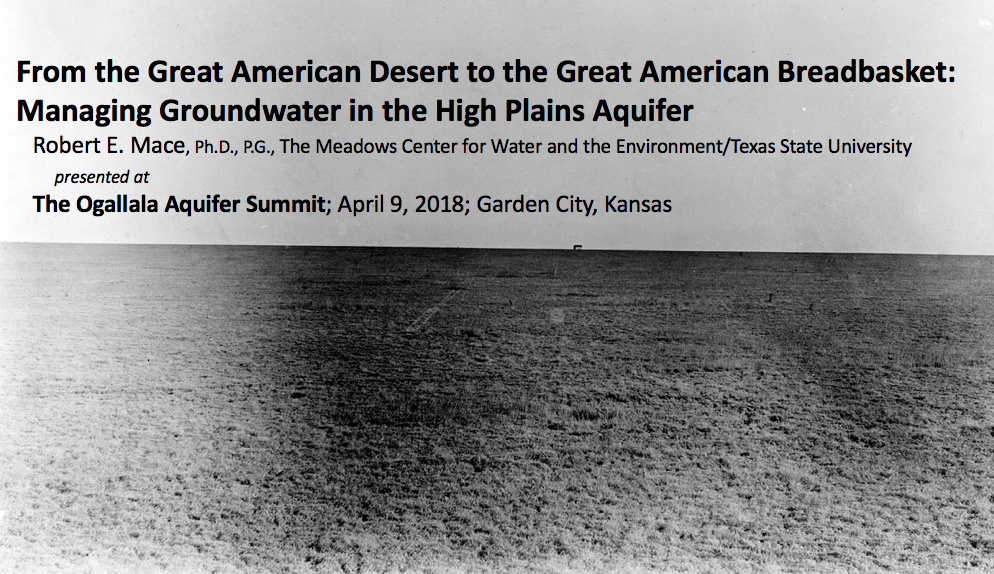 (Opens new browser window)
Producer panel:
Water-​wise strategies for sustainable production
Tom Jones (cattle, Montezuma, KS)
Roric Paulman (crops, Sutherland, NE)
Kyle Averhoff (dairy, Garden City, KS)
Darren Buck (crops, KS & OK)
R.N Hopper (crops, Petersburg, TX)
Ronnie Hopper (crops, Petersburg, TX)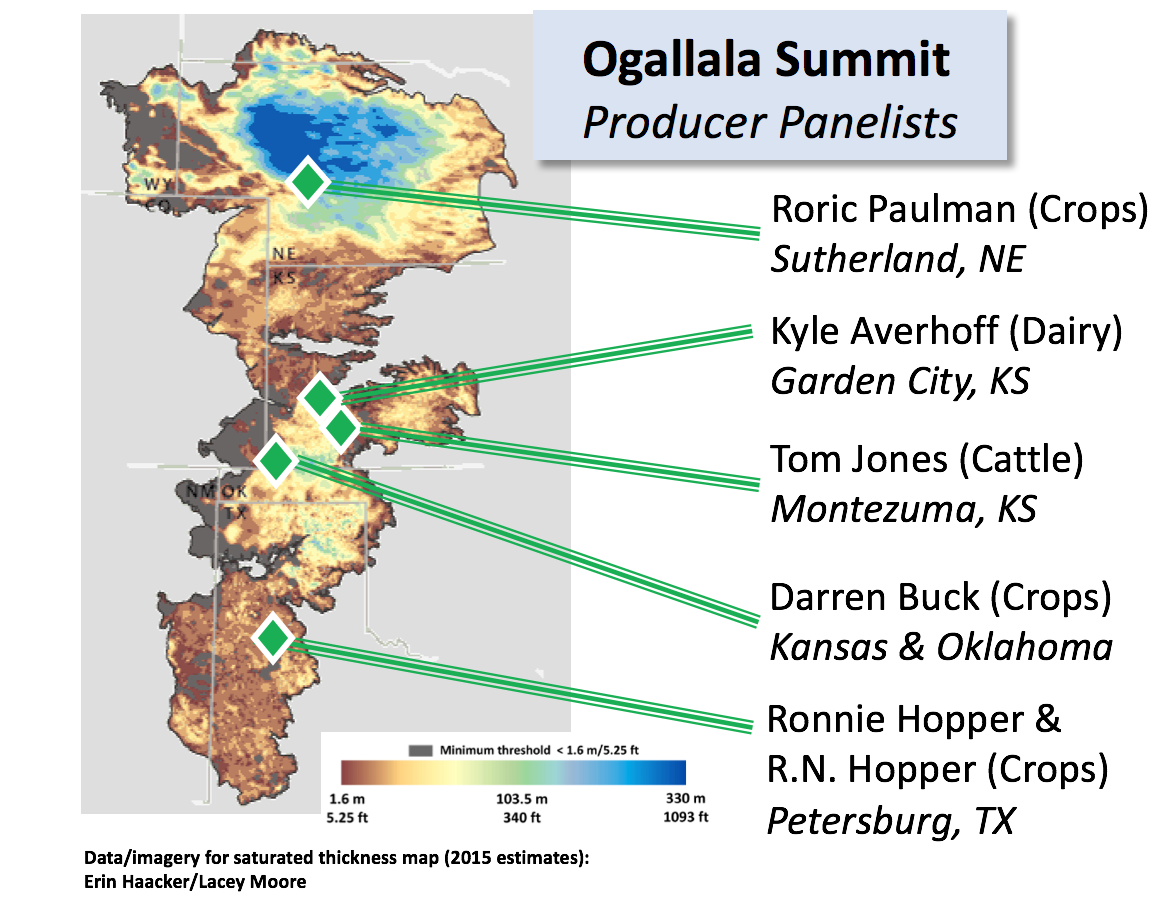 (Opens new browser window)
Summit Welcome: Lt. Governor Tracey Mann (KS)
Call for action on water conservation: Grace Roth (KS Youth Water Advocate)
Science panel: Science and data in action
Jim Butler (KU- KS Geological Survey)
Daran Rudnick (UNL)
Jourdan Bell (TX A&M)
Saleh Taghvaeian (OK State Univ.)
Dave Brauer (USDA-​ARS)
Jim Dobrowolski (USDA-​NIFA)
(Opens new browser window)
Policy Panel: What's working and new developments
Rebecca Davis

(Topeka, KS Risk Management Agency)
Syed Huq (Water Resources Director, Rosebud Sioux Tribe, SD)
Rod Lenz

(Water Preservation Partnership and Republican River Water Conservation District, CO)
Ray Luhman

(Groundwater Management District 4, northwest KS)
Steven Walthour

(North Plains Groundwater Conservation District, TX)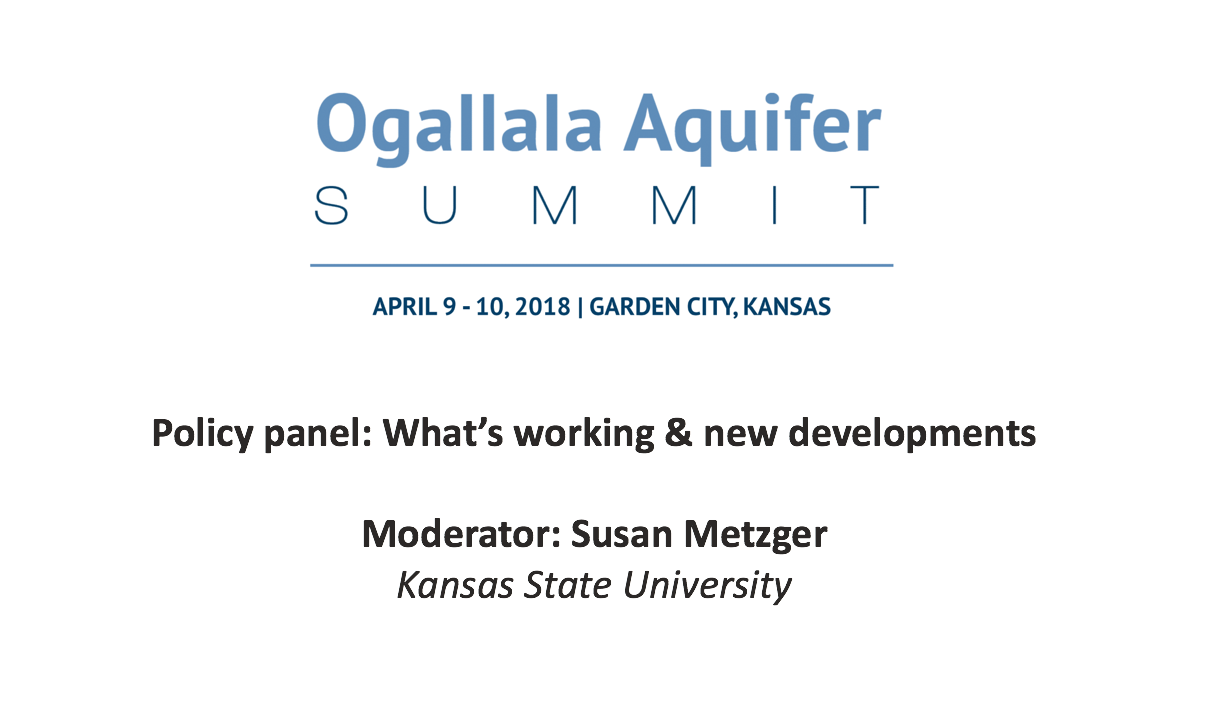 (Opens new browser window)