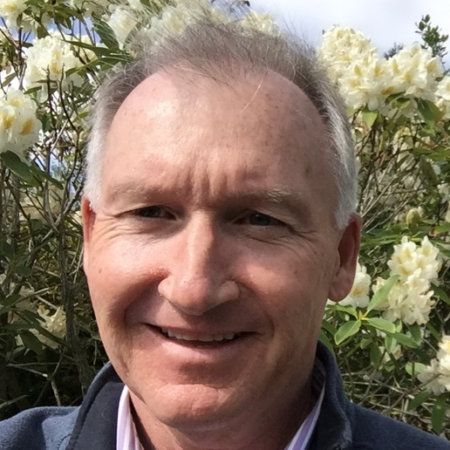 Daniel L. Devlin
Professor of Agronomy
Kansas State University
44 Waters Hall
Manhattan, KS
ddevlin@ksu.edu
(785) 532-9351
Dr. Devlin is a Professor of Agronomy and serves as the Director of the Kansas Center for Agricultural Resources and the Environment and the Kansas Water Resources Institute at Kansas State University. In his current position, he has responsibility for coordinating and enhancing research, extension, and teaching initiatives pertaining to water quality and quantity programs as well as other environmental concerns, such as climate change, soil fertility, irrigation, watershed management and interactions with state and federal agencies.
During his career, he has studied pesticide runoff, developed best management practices for pesticides, and developed and delivered innovative educational programs in Kansas resulting in documented reductions in atrazine herbicide runoff into surface waters. He also has experience with watershed modeling and with watershed and basin planning and has served as the Kansas leader for the USDA-ARS funded Ogallala Aquifer Program. He is also the principal investigator of the USDA-NIFA funded cap project, "Resilience and Vulnerability of Beef Cattle Production in the Southern Great Plains Under Changing Climate, Land Use and Markets," which is studying the impact of climate change on the grazing portion of the beef cattle industry and how to mitigate the climate change impacts. Dr. Devlin is a Fellow of the American Society of Agronomy and has received their outstanding Agronomic Extension Education Award.
Dr. Devlin believes the Ogallala Water CAP project is critically important to the Ogallala Aquifer region as well as to maintaining and increasing long term food security to the entire country and the world. "This project will develop and extend new technologies for irrigation and dryland crop production," he says. "New tools and policies will be developed and studied and improve sustainability in the region."
Selected Publications
Cruse, R.M., D.L. Devlin, D. Parker and R. M. Waskom. 2016. Irrigation aquifer depletion: the nexus linchpin. Journal of Environmental Studies and Sciences 6(1): 149-160.
Steiner, J. L., D.M. Engle, X. Xiao, A. Saleh, P. Tomlinson, C.W. Rice, N.A. Cole, S.W. Coleman, E. Osei, J. Basara, G. Middendorf, P. Gowda, R. Todd, G. Moffet, A. Anandhi, P.J. Starks, T. Ocshner, R. Reuter, and D. Devlin. 2014. Knowledge and tools to enhance resilience of beef grazing systems for sustainable animal protein production. Ann. New York Acad. Sci. 1328: 10–17. doi: 10.1111/nyas.
Devlin, D. L. 2014. Understanding sedimentation of Kansas lakes. Special Publication of Kansas State University Research and Extension. 212 pages.
Daggupati, P., K. R. Douglas‐Mankin, A. Y. Sheshukov, P. L. Barnes, and D. L. Devlin. 2011. Field level targeting using SWAT: mapping output from HRUS to fields and assessing limitations of GIS input data. Transactions of ASABE 54(2): 501-504.
Hargrove, W.L. and D. L. Devlin. 2010. The road to clean water: building collaboration and stakeholder relationships. Journal of Soil and Water Conservation 65:104-110.
Find more people
---