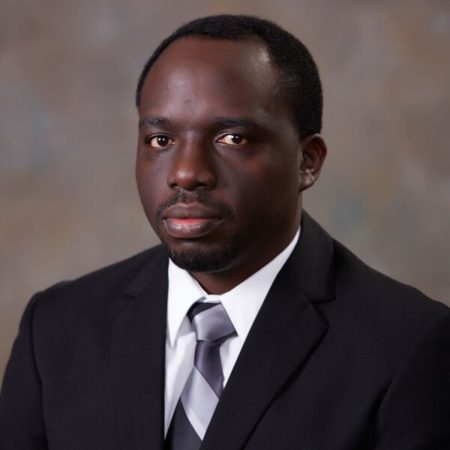 Isaya Kisekka
Assistant Professor
Southwest Research and Extension Center
4500 E. Mary St.
Garden City, KS 67846
ikisekka@k-state.edu
(620) 276-8286
Dr. Kisekka' s research program focuses on developing precision irrigation technologies, agricultural water management strategies for improving water productivity, and profitability of water limited cropping systems. His current work has focused on the semi-arid US Central High Plains where water supplies for irrigation are constrained due to declines in groundwater levels in the Ogallala aquifer.
Dr. Kisekka' s research group has led the development and evaluation of a hybrid system that integrates drip irrigation with center pivot sprinkler irrigation called Mobile Drip Irrigation (MDI). Dr. Kisekka' s work has shown that MDI can reduce nonproductive evaporative losses resulting in improved water productivity. His research group also has generated experimental data on crop-water-evapotranspiration relationships. Dr. Kisekka's group is also involved in improvement and application of crop simulation models as tools for transferring experimental data to different environments, climate, and management practices. This work has led to the development of a dynamic model-driven decision support tool (iCrop) that can be used for predicting effect weather, climate, soil, and management decisions on crop yield.
Dr. Kisekka' s extension/outreach activities are informed by his research and involve directly working with farmers by helping them adopt sustainable water management strategies and technologies that enhance profitability while minimizing risk.
Selected Publications
Kisekka, I., J. Aguilar, F. Lamm, D. Rogers, and N. Klocke. 2016. Assessing Deficit Irrigation Strategies for Corn Using Simulation. Transactions of the ASABE. 59(1): 303-317.
Araya, A., I. Kisekka, P.V. Vara Prasad and P. Gowda. 2016. Evaluation of Water-Limited Cropping Systems in Western Kansas using DSSAT-CSM. Agricultural Systems. 150:86–98.
A. Araya, I. Kisekka, and J. Holman. 2016. Evaluating Yield and Water Productivity of Grain Sorghum under Deficit Irrigation, Variable Climate, Soils, and Planting Dates using AquaCrop. Irrigation Science. DOI: 10.1007/s00271-016-0515-7.
Find more people
---